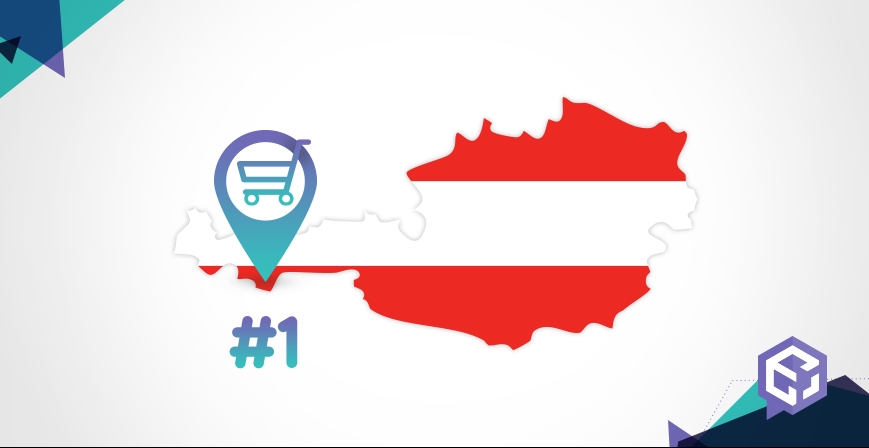 When it comes to Austria, many will immediately think about classical music, Mozart, beautiful Vienna, or the Alps. But recently, the country has become an interesting ecommerce country with a great potential.
Due to the linguistic similarity and geographical proximity, Austria, Switzerland and Germany seem to be identical ecommerce markets, even more so as the Austrians and Swiss buy mainly from Germany. Therefore, if you are looking for an opportunity in ecommerce in Austria, find out what is the current trend in Germany, it is likely that within 12 months it will be also in Austria.
Although these three markets may be similar in many aspects, there are in fact differences between them. If you assume that all German-speaking online markets and buyers are the same, you can risk getting a very bad feedback.
Market characteristics
Austria is a country with a modern and dynamic industry. It can be characterized by a perfect geographic location, economic, political and social stability. Its population is increasing, especially because of immigration.
It is worth noting that the older population, as in the whole of Central Europe, is growing at a fast pace. If you think technology is limited to younger generations, you are wrong! Older population, so called "Silver surfers" are increasingly fond of modern technology. So think of this segment when targeting your marketing and don't miss it out.
Austria is home to 8.6 million people, currently 4.9 million eCommerce customers in Austria, estimated to grow by an additional 890,000 users by 2021, with 5.8 million e-commerce users representing 78,4% of the total population (Eshopworld statistics). The average user spends about 1700 euros per year.
With the dynamic growth of ecommerce in Austria, online sales have also increased considerably faster than sales in classic shops. Domestic online retail reached € 3.2 billion last year, equivalent to 4.3% of total sales.
There are approximately 10,000 online stores in Austria, which means that this number has almost tripled over the last decade, with the number of online buyers in Austria in the same period doubling.
Customers and favorite categories
As we have already mentioned, the average online customer in Austria spends approximately 1700 euros a year, surprisingly, men shop online more. The largest market share is represented by men aged 35-44, followed by men between 25-35 and women of the same age. By 2021, the ratio between men and women shoppers is expected to remain the same, but the largest group of buyers will be men between 35-44 and men over 55 years old.
Over the past decade, the number of people who ordered goods and services online has increased by 72%. This trend covers all age groups.
The most popular categories are:
clothing and sporting goods (66% of online shoppers)
holiday accommodation and travel expenses (56%)
books, magazines, e-books (42%)
household goods (37%)
By 2021, fashion will continue to be the leader in sales, but electronics, which are increasingly more available, will follow.
Marketplace, favorite sites and cross-border shopping
Many of the goods ordered by Austrians online are imported, Austria even ranks third in the largest number of cross-border deals within the EU, with as much as 55% of ecommerce spending going abroad. In no other EU country, with the exception of small countries like Luxembourg and Malta, consumers buy more in foreign stores than in domestic stores. This is because most major online retailers are located abroad.
Especially Amazon, which is fully located in Austria, all Austrian orders are processed and sent from Germany. One of Expandeco's recommendation is, if you want to become more prominent in the Austrian market, you definitely have to sell your goods on Amazon. The most simple form is Fulfillment by Amazon.
Other popular sellers of Austrian shoppers are Zalando, Universal, Otto, E-tec.at, Tchibo, Electronic4you, Media Markt and Cyberport. Zalando.de is clearly the leader in fashion with an 18.3 percent increase in sales in 2018 in the entire DACH region (Germany, Austria, Switzerland).
One big difference between the Austrian and the German ecommerce market is the time to return the goods without giving any reason. In Germany it is 14 days, in Austria only 7. If you want to lean on your side of the Austrian customers, offer them the possibility of returning within 14 days, they will appreciate it. At the same time, the return rate is not as high as in Germany.
Translations
In Austria as well as in Germany, strong local patriotism prevails, so it is very important that your website is properly translated into German, which is essential for your ecommerce success in this market. Through professional translators, Expandeco can ensure that every translation into German is flawless, whether it is a translation of websites, product descriptions or promotional materials.
Especially thanks to them you will look in Austria as a local eshop and trust in your eshop will grow in the eyes of Austrian customers. So put your ecommerce project into the hands of professionals, which will ultimately increase your store's conversion.
Did you like the article?