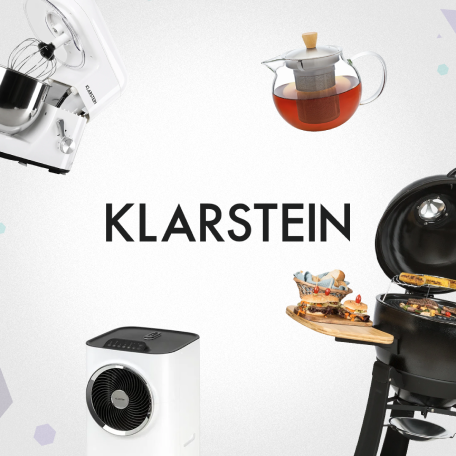 How the Klarstein kitchen design online shop maintains a consistent tone in nine languages
You can have your copywriting fine-tuned to the smallest detail at home, but how much gets lost in translation in the countries you've expanded to? Klarstein and Expandeco have achieved consistency by precisely localising a uniform, memorable and trustworthy brand across Europe. Do you want to know the recipe for their success?
Standard pages translated/five months
750
Social media posts done within (in minutes)
180
The quality of the texts reduced negative comments by
75%
Experts working on translations
25–30
Klarstein is a proud part of a Slovak success story 
It offers food processors, coffee machines, vacuum cleaners and air conditioners as well as wine cellars, mini-bars, grills and many stylish appliances for modern living. Klarstein is a premium brand that is backed by the Slovak-German Berlin Brands Group (BBG), which arose from the vision and drive of two inspiring Slovaks. Today it has 40 online shops in 26 countries. Peter Both and Dominik Brichta started by selling online audio equipment online that was both high quality and design-oriented and of high quality but also affordable. "What started as a small online shop selling DJ equipment soon caught on in Germany, the UK, Hungary, Croatia, Romania and Turkey," Startitup reports. After the entry of German partners, the company was consolidated as BBG, employing 230 people in Bratislava and over 1000 worldwide from Los Angeles to China. The company has built up a portfolio of fourteen of its own brands with more than 2500 products, generating sales of hundreds of millions of euros across Europe. 
Source: BBG corporate culture, YouTube
But that is not all that distinguishes Klarstein and BBG from the rest. BBG specialises in bold, authentic and stunning products, which are affordable for the average Czech or Slovak customer. These products can be found across the online market thanks to BBG's own algorithm, allowing them to be ranked among the top best-selling products. It's no wonder  that Klarstein's products are bestsellers on Amazon – be it, for instance the Bella Rossa food processor or the Skyscraper Ice air cooler. 
BBG is one of Amazon's top sellers, and it has its own logistics chain and warehouses that cover 1.3 million square metres in Europe, Asia and America. In April 2021, BBG received a $240 million investment to further up-scale its recipe for success with in-house brands like Klarstein, Auna and Capital Sports, TechCrunch reports. 
Translation impacts the quality of expansion into other markets 
Brand communication for Klarstein is precisely developed by BBG. They understand the market situation and make sure that the texts are at a high level. They are a client with high expectations who is simply not satisfied with average results. "We were searching for high quality translations in terms of copywriting and the ability to process many texts in an extremely short time," says Matúš Kollár, the Head of Branding & PR for CEE, indicating that this was not an easy task.
Whenever we went for standard translations, they were simple ones. The turns of phrase, the punchlines and the readability were all lost. What defined Klarstein as a brand disappeared.
Kollár describes an issue that many successfully expanding online shops struggle with — whereas at home they have a finely tuned a "love brand",  the texts used abroad are a weak imitation. 
"Expandeco came up after a recommendation from our CMO. I was mostly looking at traditional translation agencies. In this case I was interested in the fact that they address text localisation from a business perspective. Expandeco makes sure that translations are of extremely high quality, because they influence the quality of expansion into other markets," says Kollár describing how he came to fill out the request form on Expandeco's website. 
Now we have a partner from who has never said that something is impossible — even if we send out a social media campaign and want it done within a day.
Andrea Tesáková, the Head of Localisation at Expandeco immediately saw a good fit: "At the beginning of working together, I first find out all the requirements – from the language versions through to the text types and the monthly scope. I explain how we work SEO and copywriting skills into our texts. I demonstrate a collaboration system that runs in one software and makes everything much easier.  I describe the way we work with a dedicated team of in-house and external translators working for the client along with the deadlines: shorter texts are processed within 24 hours and social media statuses within ten hours." Expandeco's approach made Kollár realise that he had found a company that understood the needs of the business: "We were looking for a way to make everything work as quickly as possible. We have a regular volume but also a lot of impact content, and we can't estimate the quantity in advance. Now we have a partner who has never said that something is impossible — even if we send out a social media campaign and want it done within a day.
"The investment is paying off. We have a professional image as a local player in every market."
The team is running at a rate of 43 pages of translations per day. Poland winning in volume. 
The work started in February 2021 with translations from Slovak into nine languages including Polish, German, Croatian and Turkish. Klarstein also writes its texts in Germany for the German and English-speaking markets. "The volume is in the lower thousands of euros per month, but in the first month it was twice as much. Most of the translations are marketing campaigns, social media posts and blog articles. Poland and Hungary account for the largest volumes, followed by the Balkans (Bulgaria, Croatia, Slovenia, and Romania) and last of all Turkey. So far we have translated 750 pages of text for Klarstein at a rate of 43 pages per day," says Tesáková. 
"I recommend translations to companies of our calibre, as well as to much smaller ones. We handled problems as they arose. We also prevented them by having Expandeco from the beginning."
Four pillars of functional cooperation
Are you wondering how it worked out? Download the full version of the case study to learn how to meet deadlines, project the brand tone and secure prize competitions in seven countries. See what the Klarstein translations have delivered. 
Are you interested in our services?
We are happy to help you successfully expand across borders with our comprehensive services.