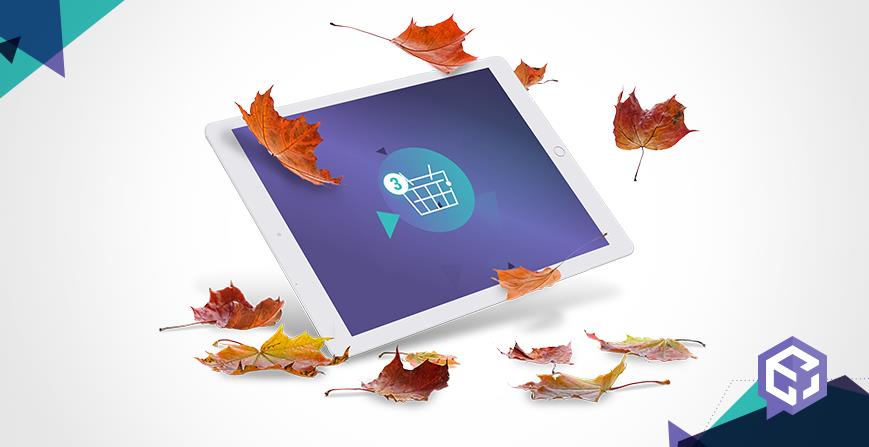 The autumn season has come and with it our short overview of news that affect the Slovak and European online market, e-commerce business and expansion of e-shops.
In the current summary you will find:
The rules of paying VAT in the European Union are fundamentally changing.
The digital tax will come into force in November.
Expandeco is expanding its services to the East.
Appropriate timing of e-shops for the Christmas season.
1. Modernization of VAT for cross-border e-commerce
If case, you have expanded to one of the countries of the European Union, significant tax changes await you from the new year. When selling goods or services to end customers abroad over a turnover of 10,000 € per year, an entrepreneur in any country of the Union is obliged to register for payment of VAT (internationally used abbreviation VAT).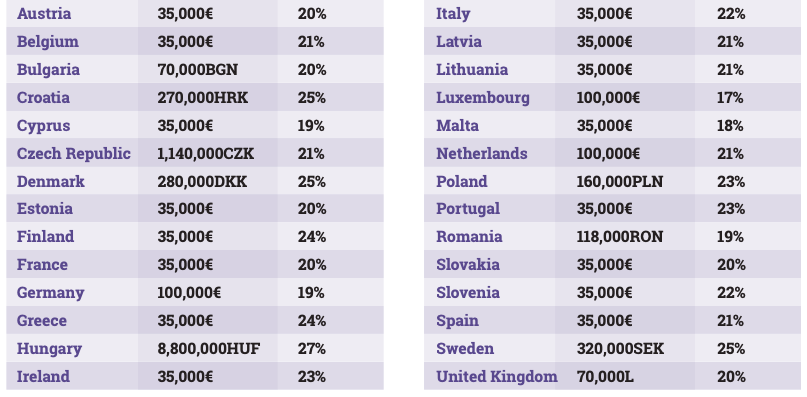 The current obligation to register for VAT in the EU now belongs to the past. Source: Expandeco
If you had sold to more than one EU country so far, you had to register for VAT in each country of operation once you have reached the turnover threshold in that country. The amount in most countries ranged from 35 to 100 thousand euro, which the European Union reduces to 10,000 euro but also simplifies the whole process. According to the amendment to the VAT Act, it will be sufficient to register in only one EU Member State as of 1 July 2021, and due to a coronavirus pandemic, the application of the Telecommunications, Broadcasting and Electronic Services (TBE) Act has been moved from the original deadline from 1 January 2021, but its postponement a year later, on 1 January 2022, is not ruled out yet.
The e-shop can file a tax return for digital orders of European customers and pay value added tax in the form of "Import One Stop Shop" - abbreviated as IOSS, translated as "one-stop shop system", therefore only requires a local financial report to file a tax return in only one member state of the Union.
Competitiveness with non-European online stores is also increasing. E-shops, especially from Asia such as Aliexpress or Alibaba, cease to have the advantage of exemption from VAT for shipments up to 22 euros. VAT can be collected and paid, for example, by a courier company or a post office.
In case you are interested in constantly up-to-date information about tax obligations and changes in the laws within individual European countries, we have a solution for you.
2. Digital tax across the EU
A topic that was opened a few years ago is more relevant now than ever before. The digital tax mainly affects the so-called Internet giants, known by the acronym GAFA (Google, Apple, Facebook and Amazon).
The current problem of the most developed OECD countries regarding international economic cooperation is, in particular, the achievement of uniform legislation at the level of the European Union as a whole. The actual results until now in individual countries show an individualistic commitment to the digital tax. Individual member states of the Union without a clear vision, such as Slovakia, can thus become a tax haven for the largest Internet companies.
Google has decided to join the new tax by incorporating it into the Internet services provided directly in the countries that have introduced digital tax so far. In practice, it will transparently add tax as a separate item on invoices for its customers, for example for advertising.
For example, in the case of the Czech Republic, the cost of each campaign will automatically increase by 5% from November 1, 2020. It is, therefore, more likely that the introduction of the digital tax will have the greatest impact, albeit indirectly, on consumers themselves.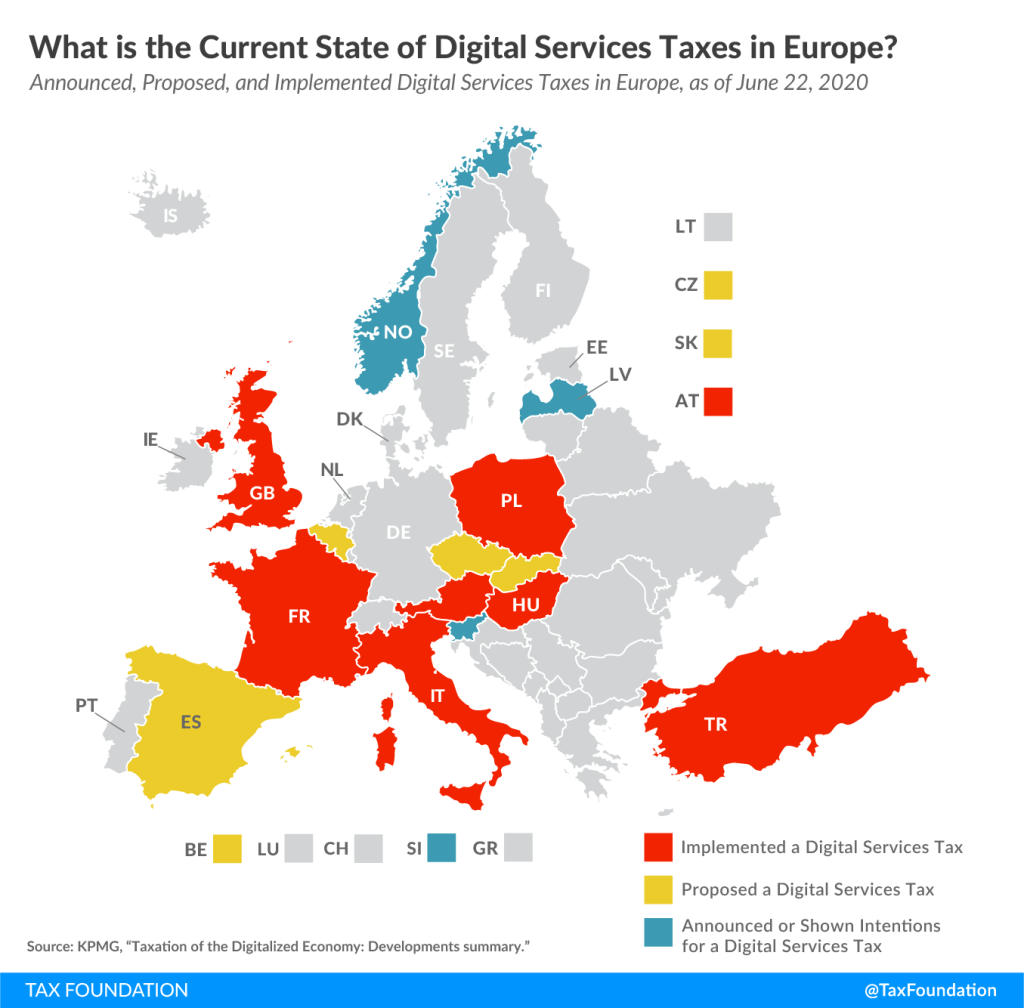 Status of the announced, proposed and implemented digital services taxes in Europe, as of June 22, 2020. Source: taxfoundation.org
3. Expandeco has opened its services in Ukraine
The new market of almost 43 million brings many new challenges and even more opportunities. The expansion specialists from Expandeco, thus, provide an opportunity for every successful e-shops to expand their e-shop to the East.
Expandeco will help you orient yourself in Ukraine thanks to a detailed market research, competition analysis, or reliable ensure legal and tax conditions. Of course, there are also local customer support services by native speakers, online marketing, including the management of the most popular social networks of Ukrainians and above all, a quality reverse logistics system, collection point services, comprehensive fulfillment services through strategically appropriate warehouse location to complete localization, including SEO translations. The Ukrainian market has its specifics, such as the fact that up to 59% of Ukrainian customers expect a telephone confirmation from the e-shop after placing their order.
Are you interested in what business opportunities our Eastern neighbor offers? See more information or feel free to contact us with any questions.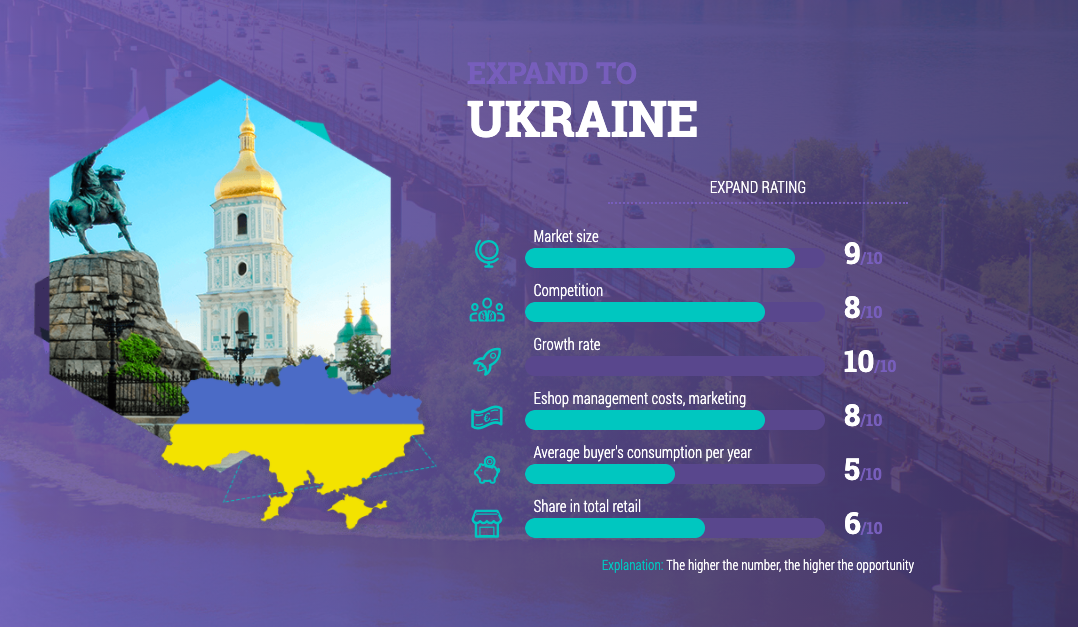 4. It's high time to get ready for the winter season
The school year has traditionally started a gradual increase in retail turnover across all sectors. The approaching Christmas shopping season means for every entrepreneur the need to increase stocks, prepare capacities for customer service and improve all services and technologies.
This year's clear trend in practically all countries is the mass relocation of brick-and-mortar stores to the online world. This is also related to the fact that most customers (according to the latest statistics up to 62%) will more easily prefer to purchase in the e-shop, when in addition they can easily return the goods in a nearby local store. It also turns out to be an interesting fact, that advertising campaigns aimed at local smartphone users increase the probability of buying in e-shops at local retailers by 25%.
It is probable that the customers will have their budget during this pre-Christmas shopping season, be more selective and less impulsive than in the previous years. Especially in case of online shopping, where spontaneous shopping is a less common phenomenon. In addition, many customers use the Internet only as a tool to locally search for products and save time in brick-and-mortar stores. In the retail environment, and especially during post-COVID, retailers can perceive their stores primarily as "showrooms" and fulfillment centers, where customers come to touch or directly pick up products they buy online.
Expandeco wishes you a happy and cheerful autumn 2020, because in 2 months (on 27th of November) the season will culminate because of the world's increasingly popular shopping holiday, Black Friday and the related Cyber Monday 30.11.
Did you like the article?