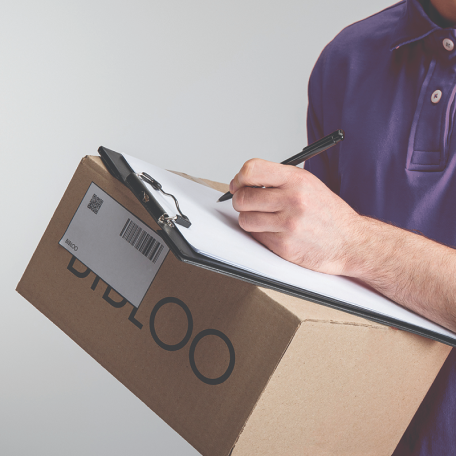 A fashion store Bibloo measuring up to local competitors in 6 countries
Reverse logistics is a recurring headache to most apparel sellers – including Bibloo, an online and retail store with designer fashion. What needed fixing was the recollection of returns from six states. Within a year, Bibloo optimized the process successfully, resulting in higher customer satisfaction and a stable position in each market. How did they go about it?
days faster recollection
6
Premium fashion store Bibloo, originally founded in the Czech Republic in 2015, is now fully localized in eight countries and operates in many more throughout the EU. To enhance its expansion to Europe and beyond, Bibloo joined forces with another industry player, Urbanstore.cz, at the end of last year. Together, they want to reach a 1,5 billion CZK threshold in customer orders by the end of 2020, planting themselves among the three biggest industry players within each market they operate in, CEO Aleš Pitro says.

Challenge:
 Speed up the returns
Aware of the status quo, Bibloo implemented a couple of processes to keep the return rate lower than average, one of which being an interactive customer journey. Bibloo firmly believes returns optimization starts even before the actual purchase. To capture and portray clothing accurately, the store designed its own production studio. Apart from flipping through photos, users see dresses, skirts and other outfits in motion, painting a more realistic picture via video. Adding sizes and measurements of models is a non-negotiable, too.
What needed addressing was slow reverse logistics. "Over the last five years in business, we have tried everything from international carriers to simple local addresses to pallet shipments. We dropped the carrier model due to high postage prices, and pallets took a week to fill up. Only then did they travel to our central warehouse in Prague. Time was our enemy," Peter Árva discloses.
"This kept our customers hanging for up to seven days. A week from returning an outfit, they still had no information about where the clothes were, when could they expect replacements, or have money back in their accounts."
Customer service became terribly overloaded as a result. In addition to that, delays led to negative reviews on comparison sites.
Solution: Collection points
Having a collection point means using Expandeco's local addresses and reverse logistics abroad. "It is particularly important when you expand somewhere new where there's no physical point of contact with customers, such as a showroom, warehouse or an office," Tomáš Vrtík, Managing Partner at Expandeco, explains. 
Tomáš Vrtík and Peter Árva met at a logistics conference, "Tomáš reached out, but I was sceptical to outsource such a key part of our logistics chain. It took another three months of back and forth before we shook hands," Peter recalls.

Pilot: Slovakia accelerated return flow by 6 days
Bibloo claimed Expandeco's collection point in Žarnovica – strategically situated between Bratislava, Budapest and Košice – as their own point of contact for customers to bring returns, requests for replacements, and warranty claims.
According to Peter Árva, it was clear from the very beginning that taking on Expandeco was the right choice: "Any parcel placed at the collection point was picked up by their team operating in place. They scanned the return form via phone which meant we had information about the return (and about the customer!) within 24 hours, or often within hours or minutes – and we could immediately process it."
Bibloo managed to accelerate both reverse logistics as well as communication with its customers. Slovakia's immediate success showed, amongst other things, how far behind neighbouring Hungary is.
The new setup also freed up time for Bibloo's warehouse workers: "Parcels arrive beautifully marked and classi- fied. We don't handle them at all. What we pay to Expan- deco is roughly the same amount we save on the shift," Peter points out.
!
Throughout the year, the solution was scaled to Hungary, Romania, Bulgaria, and Croatia: The return rate is now steadily under 15%.
Our results
In Croatia, returns were cut back by 25% in 6 months, without employing any marketing channels or campaigns.
An increase in customer satisfaction followed. "When it comes to aftercare, a customer in any given country doesn't recognize us as foreign. Their customer experience is fully localized, which increases trust and retention."
Money returns were shortened from one week to 48 hours.
Handling returns and complaints is guaranteed within 24 hours.
Faster flow of seasonal clothes and accessories.
Negative reviews wiped out "I'd say by 90%," Peter recollects.

The capacity of the customer center got cleared. "We manage returns faster and inform customers in real time so they don't need to call us asking for updates."

"When it comes to customer experience, we can absolutely measure up to local online stores in those six countries."
What's next?
Strengthened by acquiring Urbanstore.cz, Bibloo wants to reach 1,5 billion CZK in customer orders this year. In the 33 countries where the brand operates, it grows by 40–70% annually. Reverse logistics will remain one of the key pillars in meeting these metrics.
New collection points are a part of the road map, Slovenia being next on the list.

"We are challenging Expandeco to join us in every country where we want to be fully localized."
Are you interested in our services?
We are happy to help you successfully expand across borders with our comprehensive services.