According to the data and estimates of the major players in the Romanian e-commerce market, the numbers reached 2.8 billion EUR in 2017, which is 40% more than in 2016. This means that customers in Romania made purchases online € 7.67 million each day.
The total turnover of € 2.8 billion was generated by sales of physical products that were ordered online. The total turnover did not include the sale of services, tickets, holidays, accommodation, tickets and downloadable content. If we've also included the sale of these items, the total turnover of the Romanian market would increase more than once.
E-commerce share of total retail: 5.6%
The 40% increase in e-commerce in Romania year after year advises it to the fastest-growing markets in the EU. The total share of e-commerce sales rose from 4% in 2016 to 5.6% in 2017. In any case, this share is still low compared to the more developed e-commerce markets of other countries. But Romania appears to be a market with great potential for growth, which means a great chance for online store owners.
More than 11 million Internet users and mobile penetration at 85%
According to latest statistics, the population in Romania dropped from 19.4 miles to 19.1 million in 2017. More than 11 million have access to the Internet, Internet penetration has increased compared to 2016. 4.6 million people have a fixed Internet connection and 16.6 million people (13% increase over 2016) have a mobile connection.
44% of city residents shop online at least once a month
In April 2017, 1012 respondents were involved in an online questionnaire. Following this survey, 44% of city residents buy online at least once a month, and 62% of them are aged 18-34.
Residents shopping online visited 9 stores in the last year with an average of 3-4 visits per week. While non-shoppers have visited 5 stores in the last 12 months with a lower frequency of visits (once a week). In other words, online shops have quite a lot of visits even from customers who have not purchased online yet.
The main reasons why some people do not buy online: mistrust of products displayed on the site, lack of opportunities to see and test products before buying, mistrust in online shops, and the obligation to pay for transportation.
On the other hand, e-shoppers prefer shopping online because it is faster, has a wider range of products, they can easily compare products, it's cheaper and more convenient.
More than 7000 online shops in Romania
The number of online stores in Romania has grown from around 5,000 in 2016 to more than 7,000 in 2017. The growth trend will continue and the number of online stores is expected to grow to 14,000-15,000 in 2018.
According to the latest research, there are about 25,000 e-shops that have a "shopping cart", so they can be considered as online stores, but their low traffic is negligible. Only 7,000 trades are therefore sufficiently relevant for their traffic and the number of orders.
Main product categories sold in 2017 and average order value
Main product categories sold online in 2017, sorted descending:
- electronics
- IT and PC
- the clothes
- fashion and cosmetics
- homedecor products
- books
- children's products

This ranking is similar to 2016, but in line with the estimates of the largest players on the market, it is clear that the clothing category is growing faster and will overtake the electronics category in the next five years and become the main category of products sold online. Other categories with huge growth potential are homedecor products.
An important indicator of 2017 is also the increased value of the average online purchases, which is expressed by the increase of the average wage in the country. Consumers can afford to buy better and more expensive goods. The number of products purchased during one e-shop visit has also increased and the average value of the transaction has increased implicitly.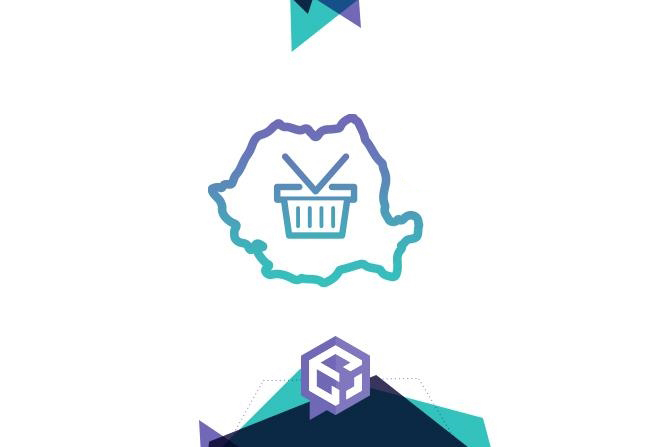 In the electronics category, the average shopping cart value increased from € 143 in 2016 to € 171 in 2017, during which Black Friday reached a purchase price of over € 214.
Significant increases in average purchases were also recorded in the clothing category - from € 34 in 2016 to € 53-64 in 2017.
In the homedecor category, the average order value is similar to 2016, approximately € 103.
In the case of online book sales, the average basket value was between € 17 and € 21, which means a small increase since 2016.
The average purchase value slightly declined only for children's products. In this category, the average purchase value has continued to decline for 3 straight years and declined from € 43.50 to € 41.83 - € 42.90 in 2017
70% of store traffic is generated by mobile phones
Mobile phones are still a major trend in 2017 and it will definitely continue in 2018. The largest Romanian e-shops have seen an increase in mobile traffic of around 70%, 20% more than in 2016. The generation of "Millennials" mainly pushes the percentage up.
For online shops that are already using mobile apps, the conversion rate from mobile devices exceeded conversions from computers. At shops, whose main traffic comes from browsers, the mobile conversion rate is only half as much as converting from a computer.
The main challenge for Romanian e-shops is optimization, more and more Romanian online shops have grasped the trend and optimized their website for mobile devices. They mostly struggle with the slow download of the mobile version of their site.
Low costs, store reputation and shortest delivery - the main factors influencing decision making
Based on the study, the main factors influencing the customer's decision are: low price, brand reputation, shortest delivery time, reliability and quality of information on the site, user demanding website (loyalty, purchase and site aesthetics,) loyalty programs.
Online shoppers made an average of 8.7 purchases in 2017. By contrast, in 2016 it was 8.4 purchases and 8.2 in 2015.
Card payments are increasing, but cash on delivery is still the king
The most preferred form of payment for Romanian customers is a cash on delivery (about 85%). Anyway, based on the information by mobilePay and PayU online payment providers, the percentage of online card payments is rising. From approximately 8% in 2016 to 12-14% in 2017. The rise can be also seen by other payment options, such as payment by transfer, micro payments by SMS and others.
In the light of the above, we add that card payments exceeded the value of € 1.2 billion in 2017, compared to € 745 million in 2016. (Source: RomCard).
Black Friday 2017
According to ARMO (Romanian online shop Association), during the Black Friday weekend Romanian customers bought products worth more than 200 million euros, 35% more than in 2016. Sales growth during Black Friday rises year by year: € 75 million in 2014 ; 100 mil € 2015; 130 mil € 2016; 200 Million € 2017. More and more shops are preparing Black Friday campaigns throughout the year.
Opinion of Expandeco
Romania is with its nearly 20 million inhabitants and an underdeveloped online market a holy grail for every business owner who is looking for new markets to expand to. Barriers that have been unmatched before, are long gone. Packet delivery rates are highly acceptable due to high competition from logistic companies.
If you need any other informations not only about the romanian ecommerce market, do not hesitate to contact us.