In the second part of our special on the Romanian e-Commerce market, we focus in particular on on-line payment systems and their usability in practice. In Romania, non-cash transactions are still tainted by consumers' prejudices. Dear e-shoppers, come along with us to look at the situation on the Romanian market. We believe the following information will be useful and inspirational for you.
Card game, unload all the aces
The most worrying fact about online payments is the unwillingness of customers to use their payment cards. Consumers still have certain preconceptions about online payment systems. Securing such payments is considered untrustworthy and inadequate.
Therefore, the main task not only of our e-shoppers, but the whole financial sector should be:
Increase confidence with modern financial instruments as well as with customers and traders.
Find out what consumer preferences are for on-line payments (credit / debit cards, bank transfer, mobile pay, and others).
Slovakia / Czech Republic versus Romania
In terms of payment through payment gates or credit cards, in all countries, people probably have a similar opinion and do not sufficiently trust the security of the payment system. People are simply cautious, careful, but we could say that in a certain way even conservative. Abuse of sensitive data or so-called unloading of account, these are the most common concerns of consumers.
For the safest on-line payment system, consumers consider bank transfer. However, the first place keeps the cash or cash payment at the point of delivery. Does it seem inefficient and obsolete? You are right.
And why is that so?
Insufficient awareness of online payment options
Overall disinterest about being informed at all
Unreliability of the e-shop itself (unprofessional design, no business terms or complaints, unfair practices, etc.)
Slovakia and the Czech Republic are ahead of Romania in terms of cashless transactions. Despite the fact that we still have a paycheck prevailing with 58% in the NMS Market Search survey and the Heureka Price Comparator, we can boast with a lot of progress. The second favorite is with 14% bank transfer. An on-line card payment can boast with 13%, with a percentage increasing every year.
The Czech e-commerce market is even more developed in this direction. The bankroll is gradually getting into the slump. Payments via internet banking or credit cards are very fast ahead. The same situation exists in the more advanced Western countries.
You can never be careful enough, but ...
Non-cash transactions are best protected and payments pass through multiple-level authentication. In the case of a non-cash transaction, the customer is directly logged into the Bank's form, which is secured by a security certificate.
Let's look at the 3-D Secure System, which serves to secure Internet payments and is under Mastercard and Visa. This type of security offers increased security of payments due to payment authorizations by specific security features. This means that the risk of card abuse in the internet environment is almost impossible.
When you make a payment, you will receive an SMS with a one-time authorization code for the phone number you have registered with your bank. If the card holder's SMS verification was successful, the customer is automatically redirected to the merchant's site.
3-D Secure System and Romania
GoMag reports that there are approximately 1377 stores and 14.5 million cards registered in the 3-D Secure System in Romania. In practice, however, it looks completely different. The actual active payment cards compared to the total number is only about 1.32 million.
The positive message is that not only the number of active payment cards but also other types of payment options for online shopping are increasing from one year to the next. In 2015, according to GPeC, it looked as follows: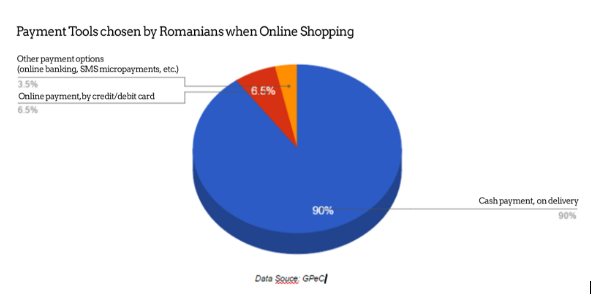 Are more popular credit cards or debits?
It often happens that people confuse credit cards with debits and vice versa. They think it's just a synonymous name for the same kind of payment card. Wrong! The difference is striking.
Every other Slovak would tell you that his wallet is full of credit cards. However, in many cases, they are not credit cards, but debit cards that you usually get when you create your account. With your debit card, you use your own money that you have in your account. A credit card can be used as a credit. This means that you actually borrow money from a bank for each payment, which you have to pay back sooner or later.
In Slovakia and the Czech Republic, credit cards are not as widespread. Consumers are more likely to use debit cards for all payment transactions in the Internet.
But Romanian consumers have chosen Western style to use credit cards. They have the greatest potential to use if the sum of the goods is higher than the monthly consumer budget.
The GPeC study maps the consumer behavior of Romanian customers in the so-called "Black Friday". In 2015, during Black Friday, Rumanians were able to spend up to 100 million Euros, paying mostly by credit cards.
For world consumers (especially those in west) we can see a strong demand for the diversity of payment instruments. But the Romanians are (still) miles away. However, despite this fact, we could find a tiny flash of e-shops that accept, for example, bitcoin payments. So, do you know what direction to take if you want to spur the Romanian e-commerce market?
Internet Banking supports Romanian e-Commerce
Under Romanian conditions, it is very remarkable how banks support the development of Internet banking solutions, thereby facilitating e-commerce business. Banks such as ING or Transilvania, which have a strong background in Romania, are accelerating online remittances, lowering transaction fees, offering discounts, or expanding mobile application portfolios.
In addition to these innovations, a Romanian bank introduces a so called "cash back module" that offers customers the possibility to refund a certain percentage of the purchase amount for registered partner e-shops.
Some businesses that have become partners have, for example, managed to double their online sales volume. According to the Wall-Street.ro report, in last May, clients of ING were refunded 800 LEI from the cash back system for the first 3 months of the service launch.
There are cash back portals in Slovakia and the Czech Republic, such as Tipli, Refundo or Plnápeňaženka. So if you buy in an e-shop that is involved in this cash back system, you will be refunded a certain percentage of that amount after the purchase. This is actually the so called "circular reaction" where the seller sold his product, thanks to the e-shop operator - who subsequently received a provision and the buyer got a discount on his product thanks to the cash back system.
Romanian consumers are as receptive as Slovakian.
In general, it is known that males tend to decide on their convenience when shopping. Women have an impulse to buy things from an esthetic point of view. The roots of this behavior are stemming from the prehistory when men devoted themselves to hunting and survival. Women were in charge of the household a.k.a. the main idea is the same. Only time and context differ slightly.
According to Ecompedia, these unspoken rules appear to be not as characteristic for Romanian e-commerce. For example, in 2015, Romanian women bought 4 times more gadgets and 2 times more mobile phones than in 2014. So, the difference compared to the shopping behavior of the opposite sex favors men by only 3%.
The most popular shopping category in the Romanian e-commerce market has been IT / PC and electronics. The same preferences, according to the Pricemania Academy research from the 2015 have Slovak consumers. Important factors in purchasing products and services online in both countries are the price and reviews of the e-shop.
How can this information be used for your expansion?
Thanks to them, you will know what you have to offer to Romanian customers, how you have to offer it to them and tailor the offer specifically for the Romanian consumer.
A specifically personalized website will provide you with loyal customers. Do not forget about promotional strategies to help raise awareness of your e-shop, and also create a unique identity that will make you stand out from your competition.
By going through all of the marketing components mix, but also by getting closer to the theme, we believe we have provided you with a comprehensive picture of the Romanian e-commerce market. For further questions or concerns about our services, do not hesitate to contact us. We can provide tailor-made services.